Clothing based on Japanese anime, manga, or video games.

Japanese gothic lolita-style clothing.

J Rock fashion and clothing.
Any original costume or non-cosplay outfit you may have in mind.

Traditional Japanese clothing. This is our specialty and what we used to do in our former physical store.

We sell clothing patterns. Japanese clothing, cosplay, and normal stuff. If we make it, we can pattern it for you.
---
Armor and weapons. In certain cases we can design "armor" to be made out of fabric, there are a few examples in our cosplay gallery. We don't do anything made of metal nor large props.

Most gloves and footwear. This includes shoes, boots, and gloves that cover each individual finger (we can make fingerless gloves though).

Pre-made costumes. All the costumes shown in our gallery are 100% custom made by us and are one of a kind creations.

Wigs. We used to offer a wig service but decided to concentrate more on our core business.
---
---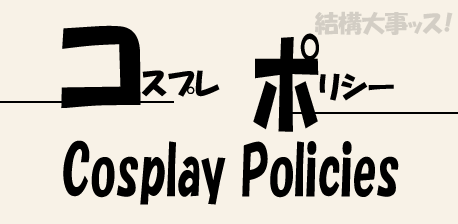 You bought the costume/clothing, it's yours, you can do what you want with it.

We don't mind if you use any of our costumes to compete in any events you may attend!

We'd appreciate any acknowledgement for any event you may win, should you choose to do so.

Any personal information that you share with us will remain strictly confidential. We will never give out that information to anyone and we will never solicit you for anything.

On all international orders, you as the customer are responsible for all customs charges that may be incurred.

---
For those of you who are local to the area and who remember, we once had a physical store located in Los Angeles, California, in the Little Tokyo area. It was inside what's now known as the Little Tokyo Galleria, on Alameda and 3rd street, second floor, next to Japan Arcade.

As of February 2007, we've closed it as Naomi herself wished to finally retire after 19 years of managing her store.

We still operate online as Naomi still likes to sew in her retirement!



Our former storefront and address:

Naomi Alteration Service
333 South Alameda, Suite #205
Los Angeles, CA 90013


12:00 P.M. - 6:00 P.M. (closed Wednesdays)
---

Seamstress with 25+ years of sewing and alteration experience.

Owned clothing and alteration store in Los Angeles, California for 19 years.

Specializes in Japanese clothing such as kimono, happi coat, and yukata.
---

This site is maintained not by Naomi herself, but by her staff. She does all the sewing and clothing design, we do everything else. Any email we receive the contents are explained to her, we show her pictures of commission requests, and handle payments. We speak, read, and write in fluent English, it's just that Naomi doesn't (she speaks it but is not fluent), and is why we do things this way.

Yup, we're cosplayers ourselves. We also watch anime, read manga, and play videogames and therefore are familiar with many characters and games that we all know and love from the mentioned media.

Naomi's first online store after 19 years of running her Little Tokyo business. She always wanted her own online business, but didn't know how. We decided to help her out though :).